The Orphans of St Halibut's book and activity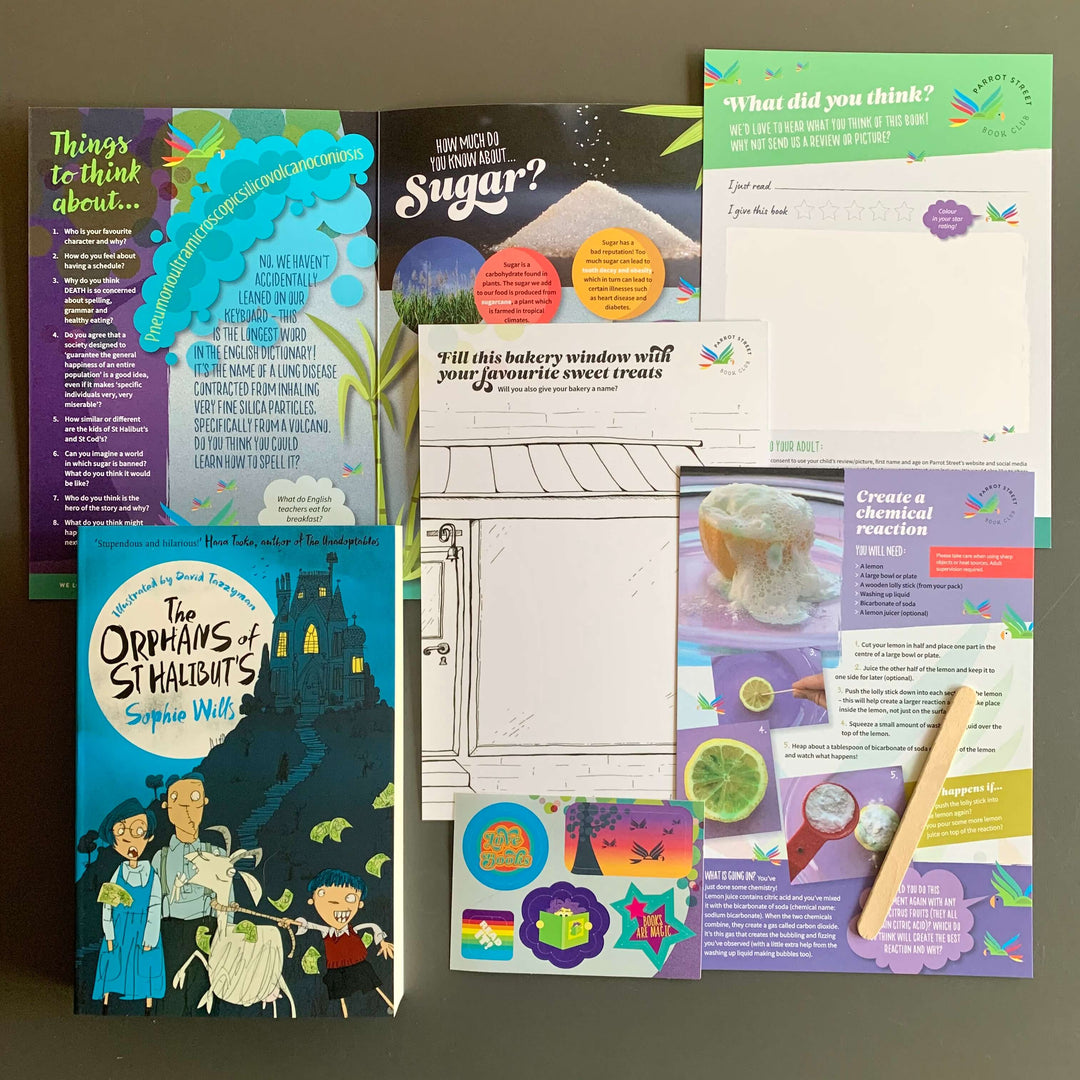 The Orphans of St Halibut's book and activity
Sophie Wills
Regular price
£1100
£11.00
UK shipping from £2.99 (Free on bookshop orders over £25)
Quirky, outrageously funny fiction for kids aged 8+

Readers of all ages will be laughing out loud with The Orphans of St Halibut's by Sophie Wills, plus an accompanying activity pack which we created for Parrot Street subscribers in January 2021.


"This book is very silly! 

We love the quirky humour, David Tazzyman's amazing illustrations, and especially the brilliant and brave cast of characters.

"
~Sarah


Life has been perfect ever since the orphans of St Halibut's Home for Waifs and Strays buried their matron - don't look like that, it was an accident! Tig, Stef, Herc and Pamela just have to make sure nobody finds out they're on their own. But stolen cakes, major explosions and a very grumpy goat mean that things go from peachy to spectacularly out of hand...


Sophie Wills has worked in a boarding kennels, at a hardware store, a doctor's surgery and two publishing houses. She once performed Gangnam Style at Number 10 Downing Street! The Orphans of St Halibut's is her first novel.


The activity pack includes stickers, book club-style questions to ponder, a recipe for chocolate honey cake and instructions for a fun science experiment. There's also word puzzles and a sweet treat drawing activity, alongside jokes, facts and further reading recommendations.
Activity packs are a handy A5 size and printed on uncoated paper which is fully recyclable.
We dispatch orders Monday - Friday.
Standard UK Royal Mail delivery £2.99 (free on bookshop orders over £25)
UK Express delivery also available from £5.50
International shipping available to select destinations (calculated at checkout according to weight)
Our packs are wrapped in a simple paper sleeve and sent out in a cardboard book wrap – we would be so grateful if you could recycle both.
We don't include any paperwork in our parcels so you can send our book gifts directly to the recipient with confidence.

We'll happily add a handwritten note to your order. Simply leave your message in the box on the cart page.

When in stock this pack is also available as part of a gift set:
You may also like to browse our greeting cards & gift wrap
We are a monthly book subscription by post for children aged 5 to 14, focused on helping families discover new and different chapter books.

This title was sent to subscribers in the Cockatoo reading group, aged roughly 8 to 12.