Proud of Me book and activity pack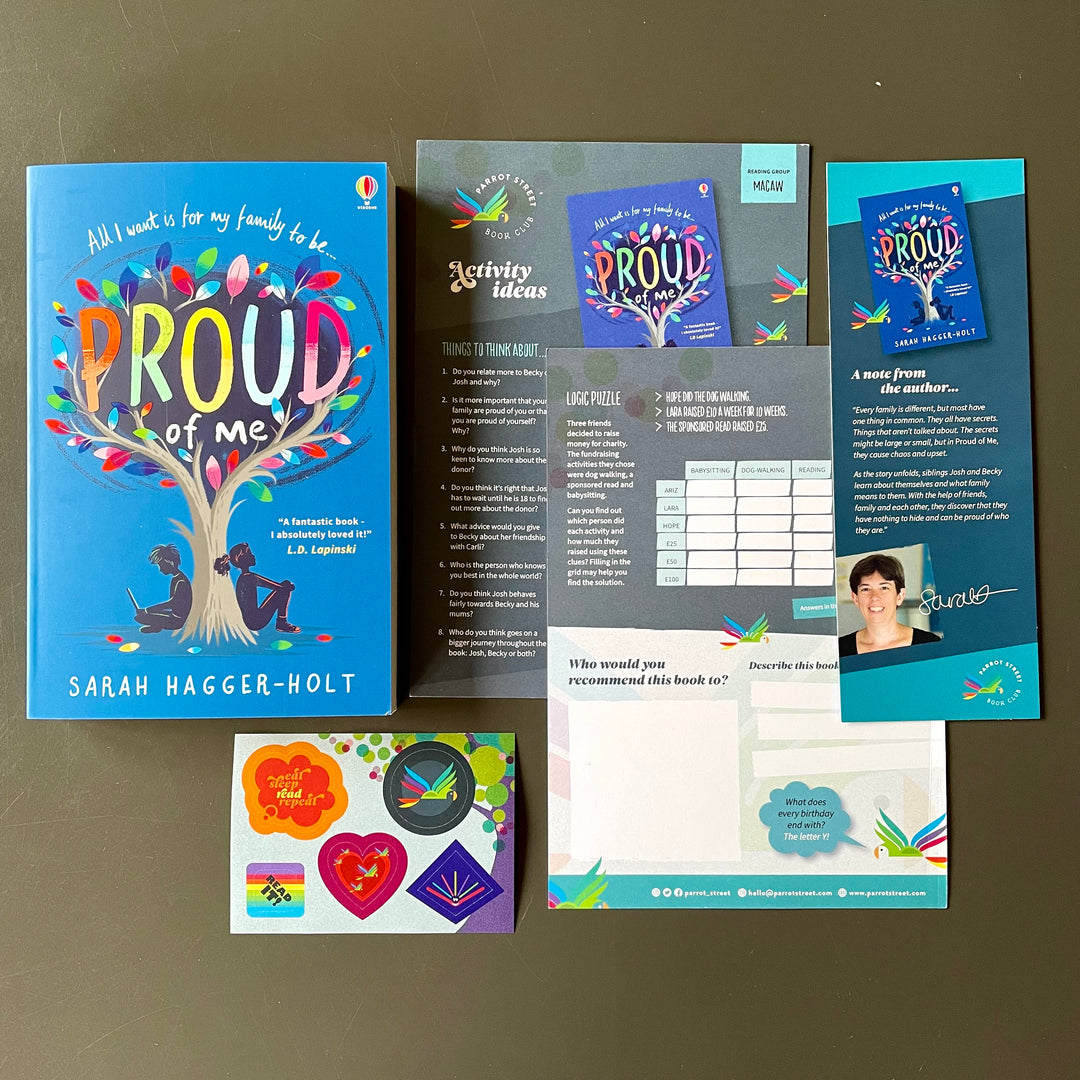 Proud of Me book and activity pack
Sarah Hagger-Holt
Nominated for the Carnegie Award. Winner of the Little Rebels Award for Radical Children's Fiction
Regular price
£1300
£13.00
A fun and moving family story, perfect for older readers

Readers will be moved by the award-winning Proud of Me by Sarah Hagger-Holt and will be engaged by the accompanying activity pack which we created for Parrot Street subscribers in September 2021.
"We love this warm, funny, sensitive story starring a pair of young teenagers who we think young readers will find hugely relatable. We were proud to share it with subscribers in our very first Macaw boxes."
~Sarah
Becky and Josh are almost-twins, with two mums and the same anonymous donor dad. Josh can't wait until he's eighteen, the legal age when he can finally contact his donor, and he'll do anything to find out more - even if it involves lying. Becky can't stop thinking about her new friend, Carli. Could her feelings for Carli be a sign of something more?


Sarah Hagger-Holt is the author of both fiction and non-fiction books on LGBTQ+ experience. She lives in Hertfordshire with her partner, children, rabbits and chickens.


The activity pack includes stickers, book club-style questions to ponder and an exclusive welcome note from Sarah Hagger-Holt. There's also a rainbow cake recipe and a logic puzzle to solve, alongside jokes and further reading recommendations.
Price includes UK P&P.

Activity packs are a handy A5 size and printed on uncoated paper which is fully recyclable.

Our packs are wrapped in a simple paper sleeve and sent out in a cardboard book wrap – we would be so grateful if you could recycle both.
We don't include any paperwork in our parcels so you can send our book gifts directly to the recipient with confidence.

We'll happily add a handwritten note to your order. Simply leave your message in the box on the cart page.

This pack is also available as part of a gift set:
We are a monthly book subscription by post for children aged 5 to 14, focused on helping families discover new and different chapter books.

This title was sent to subscribers in the Macaw reading group, aged roughly 12 to 14, who need books that feel grown-up but aren't quite ready for all young adult books.