Our Beautiful Game book and activity pack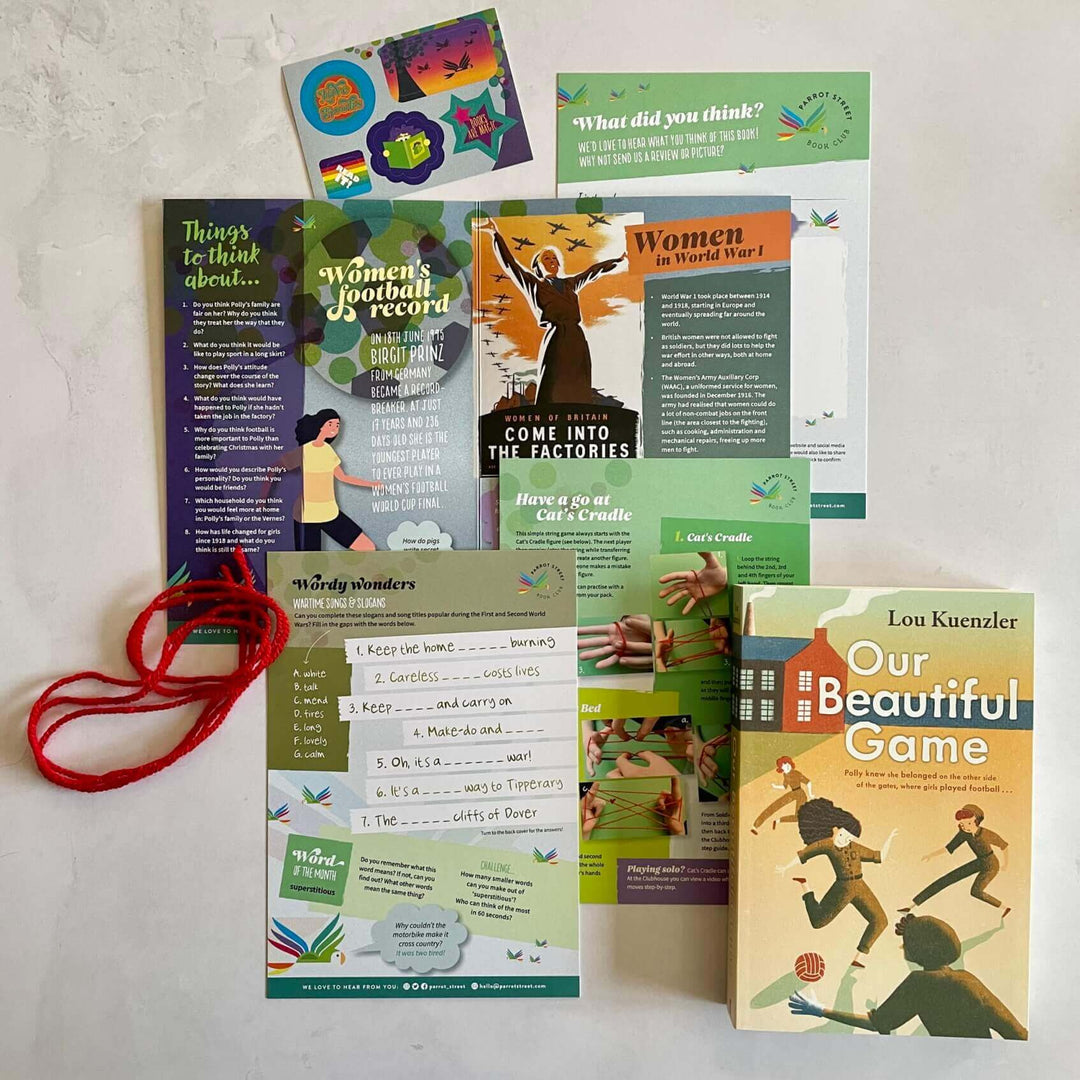 Our Beautiful Game book and activity pack
Lou Kuenzler
Regular price
$1411
$14.11
UK shipping from £2.99 (Free on bookshop orders over £25)
An inspiring historical story, perfect for kids aged 8+
Readers will be transported back in time with Our Beautiful Game by Lou Kuenzler plus an accompanying activity pack, which we created for Parrot Street Book Club subscribers in November 2021.
"This fantastic novel opened a window into a period of history we've not seen in many children's books. We knew our subscribers would be fascinated to learn more about how women, particularly those who liked football, were treated at the time"

~Emily
Inspired by the incredible real life stories of trailblazing women footballers like Lily Parr, it's a story of football, feminism and friendship.

Polly's brother Joe leaves home to serve in the trenches, but all Polly wants is to play football and forget the war. Forced to stay at home to help with endless chores, Polly must fight with everything she has to fulfil her dreams and show the world that football is not just for boys...


Lou Kuenzler is the author of many picture and chapter books for children, including The Return of the Railway Children, a follow up to the classic E Nesbit story.


The activity pack includes book club-style questions to ponder, instructions for playing cat's cradle and a football-focused drawing activity. There's also a recipe for orange jelly slices and facts about women's football alongside jokes and further reading recommendations.
Activity packs are a handy A5 size and printed on uncoated paper which is fully recyclable.
We dispatch orders Monday - Friday.
Standard UK Royal Mail delivery £2.99 (free on bookshop orders over £25)
UK Express delivery also available from £5.50
International shipping available to select destinations (calculated at checkout according to weight)
Our packs are wrapped in a simple paper sleeve and sent out in a cardboard book wrap – we would be so grateful if you could recycle both.
We don't include any paperwork in our parcels so you can send our book gifts directly to the recipient with confidence.

We'll happily add a handwritten note to your order. Simply leave your message in the box on the cart page.

This pack is also available as part of a gift set:
You may also like to browse our greeting cards & gift wrap
We are a monthly book subscription by post for children aged 5 to 14, focused on helping families discover new and different chapter books.

This title was sent to subscribers in the Cockatoo reading group, aged roughly 8 to 12.