Last Gate of the Emperor book and activity pack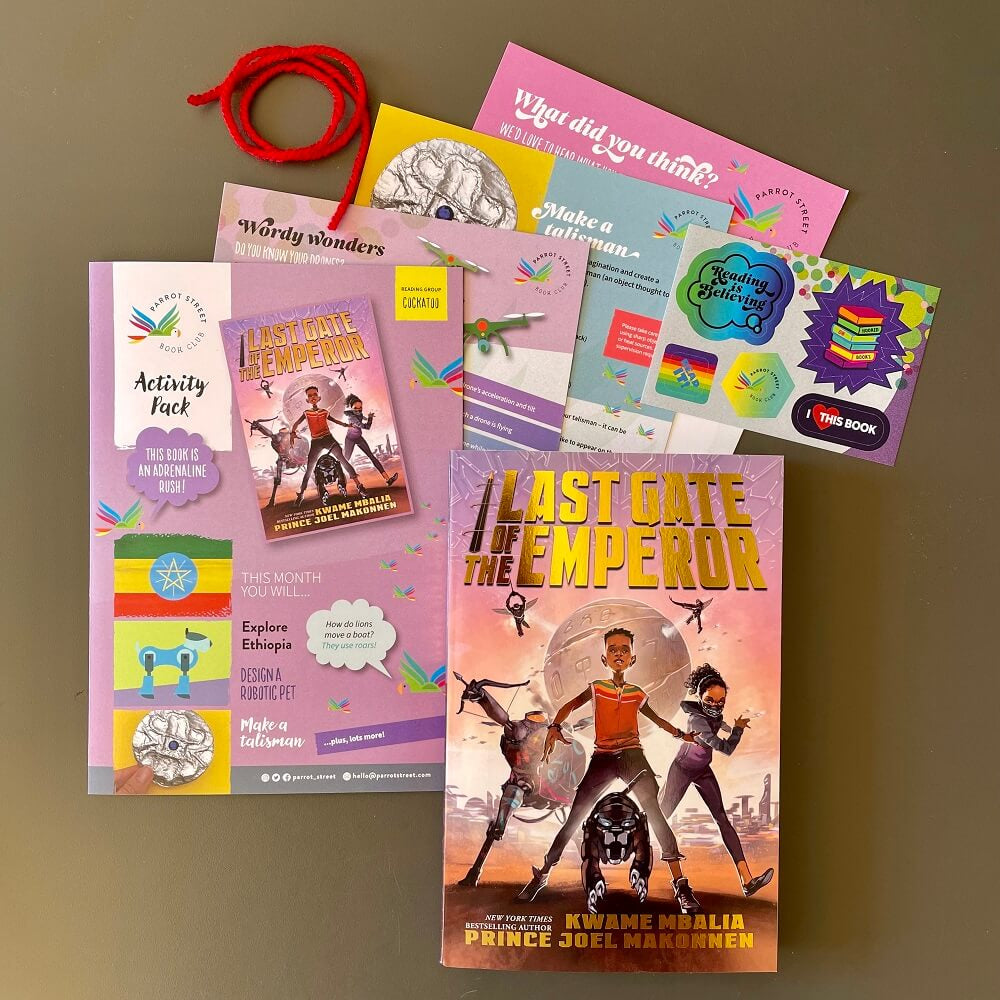 Last Gate of the Emperor book and activity pack
Kwame Mbala & Prince Joel Makonnen
Regular price
$1412
$14.12
UK shipping from £2.99 (Free on bookshop orders over £25)
A thrilling sci-fi adventure for kids aged 8+

Get ready for an adrenaline rush with this bundle containing Last Gate of the Emperor
by Kwame Mbala and Prince Joel Makonnen plus an accompanying activity pack, which we created for Parrot Street Book Club subscribers in September 2021.
"Combining Ethiopian myth and folklore with a futuristic fantasy adventure story, this gripping and often amusing book had us on the edge of our seats!"


~Emily
Yared's home is Addis Prime, a rundown city full of broken tech and boring rules to live by. His uncle Moti and bionic lioness Besa are his only family. By day he dreams of adventures, and by night he's the thrill-seeking star player of an underground augmented reality game.

When an attack rocks the city, Yared and the Ibis - a game rival turned reluctant ally - must search for answers to his place in an epic galaxy-spinning war.


Kwame Mbalia is a New York Times bestselling author. His debut, Tristan Strong Punches a Hole in the Sky, was award-winning and he's received critical acclaim as the editor of bestselling anthology Black Boy Joy.

His Royal Highness Prince Joel David Makonnen is a member of the Ethiopian royal family and the great-grandson of the last Emperor of Ethiopia.


The activity pack includes book club-style questions to ponder, facts about Ethiopia and a talisman craft project. There's also a recipe for sambusas and a challenge to draw a robotic pet, alongside jokes and further reading recommendations.
Activity packs are a handy A5 size and printed on uncoated paper which is fully recyclable.
We dispatch orders Monday - Friday.
Standard UK Royal Mail delivery £2.99 (free on bookshop orders over £25)
UK Express delivery also available from £5.50
International shipping available to select destinations (calculated at checkout according to weight)
Our packs are wrapped in a simple paper sleeve and sent out in a cardboard book wrap – we would be so grateful if you could recycle both.
We don't include any paperwork in our parcels so you can send our book gifts directly to the recipient with confidence.

We'll happily add a handwritten note to your order. Simply leave your message in the box on the cart page.

When in stock this pack is also available as part of a gift set:
You may also like to browse our greeting cards & gift wrap
We are a monthly book subscription by post for children aged 5 to 14, focused on helping families discover new and different chapter books.

This title was sent to subscribers in the Cockatoo reading group, aged roughly 8 to 12.