Secrets of a Schoolyard Millionaire book and activity pack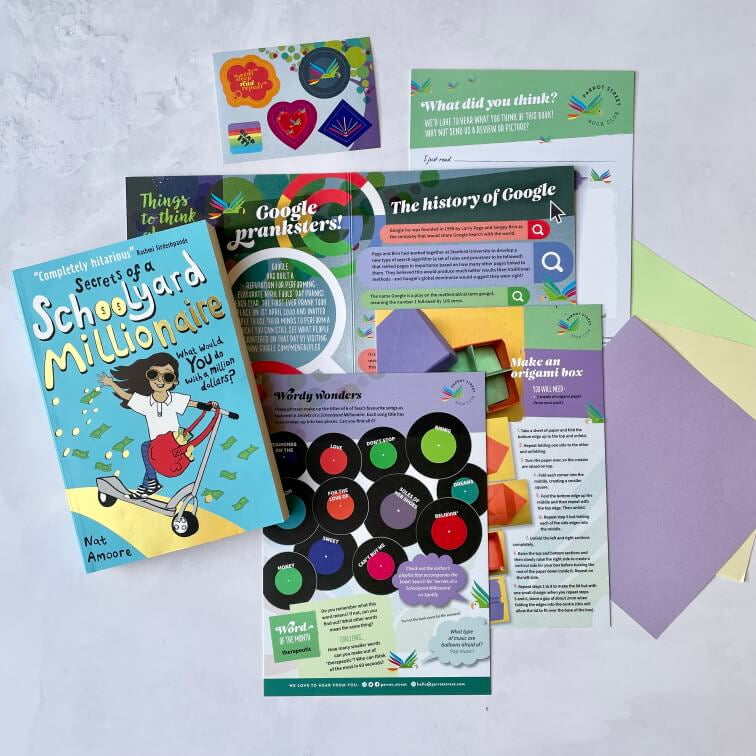 Secrets of a Schoolyard Millionaire book and activity pack
Nat Amoore
Regular price
£1100
£11.00
UK shipping from £2.99 (Free on bookshop orders over £25)
An inspiring and hilarious adventure story for kids aged 8+

Prepare for a wild, laugh-out-loud ride with Secrets of a Schoolyard Millionaire by Nat Amoore plus an accompanying activity pack, which we created for Parrot Street Book Club subscribers in December 2021. 
"This is a thrilling and hilarious romp starring one of our favourite lead characters - Tess is smart, determined and a little bit reckless. Plus we love the 80s musical references and top tips for budding entrepreneurs!"
~Sarah
Finding a million dollars in your back garden would be every kid's dream, right? That's what Tess and her best friend Toby thought, too. Bouncy castles at school. Sweets for their adoring fans. Wearing sunglasses indoors (because that's what millionaires do). There's a lot you can get with a million dollars... including a whole lot of trouble!


Sydney-based author Nat Amoore is passionate about encouraging kids to read and write and explore their imagination without boundaries. We are thrilled that Nat recorded an exclusive video especially for our subscribers. Tune in to find out all about what inspired the book and what she would do with a million dollars...


The activity pack includes book club-style questions to ponder, instructions for making an origami box and designing your own bank note. There's also a recipe for nasi goreng and facts about the history of Google, alongside a music quiz, jokes and further reading recommendations.

Activity packs are a handy A5 size and printed on uncoated paper which is fully recyclable.
We dispatch orders Monday - Friday.
Standard UK Royal Mail delivery £2.99 (free on bookshop orders over £25)
UK Express delivery also available from £5.50
International shipping available to select destinations (calculated at checkout according to weight)
Our packs are wrapped in a simple paper sleeve and sent out in a cardboard book wrap – we would be so grateful if you could recycle both.
We don't include any paperwork in our parcels so you can send our book gifts directly to the recipient with confidence.

We'll happily add a handwritten note to your order. Simply leave your message in the box on the cart page.

When in stock this pack is also available as part of a gift set:
You may also like to browse our greeting cards & gift wrap
We are a monthly book subscription by post for children aged 5 to 14, focused on helping families discover new and different chapter books.

This title was sent to subscribers in the Cockatoo reading group, aged roughly 8 to 12.