Pie in the Sky Past Pack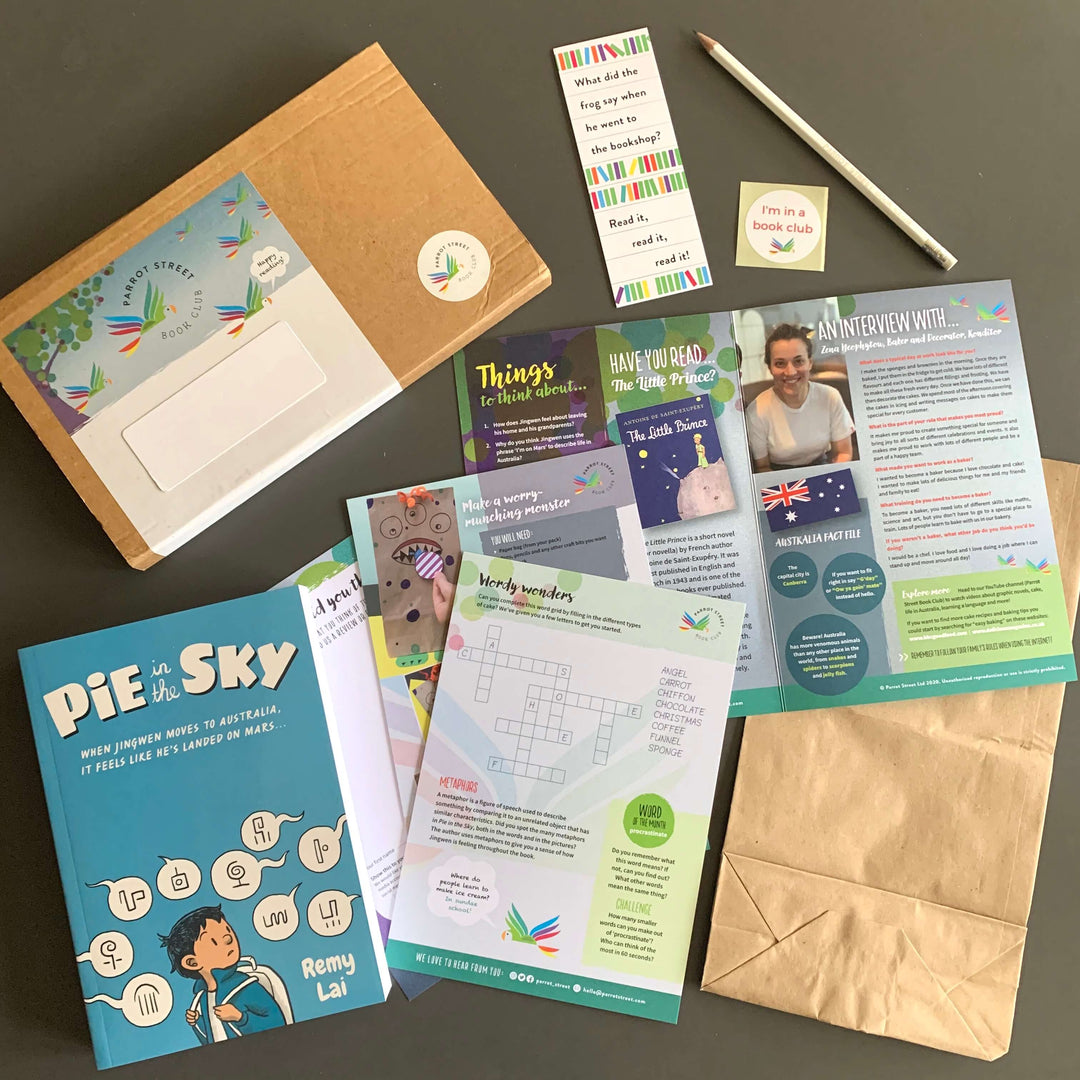 Pie in the Sky Past Pack
Remy Lai
Regular price
$1411
$14.11
UK shipping from £2.99 (Free on bookshop orders over £25)
Funny and emotional graphic novel-style story for kids aged 8+
This book is a real treat! When Jingwen moves to Australia, he feels like he's landed on Mars. School is torture, making friends is impossible, since he doesn't speak English, and he's stuck looking after little brother, Yanghao. To distract himself from the loneliness, Jingwen daydreams about making all the cakes on the menu of the bakery his father had planned to open before he unexpectedly passed away. 
With this activity pack you will:
Design a birthday cake
Make a worry-munching monster
Bake Chinese egg cakes
Plus, lots more!
Activity packs are a handy A5 size and printed on uncoated paper which is fully recyclable.
We dispatch orders Monday - Friday.
Standard UK Royal Mail delivery £2.99 (free on bookshop orders over £25)
UK Express delivery also available from £5.50
International shipping available to select destinations (calculated at checkout according to weight)
Our packs are wrapped in a simple paper sleeve and sent out in a cardboard book wrap – we would be so grateful if you could recycle both.
We don't include any paperwork in our parcels so you can send our book gifts directly to the recipient with confidence.

We'll happily add a handwritten note to your order. Simply leave your message in the box on the cart page.

When in stock this pack is also available as part of a gift set:
You may also like to browse our greeting cards & gift wrap
We are a monthly book subscription by post for children aged 5 to 14, focused on helping families discover new and different chapter books.

This title was sent to subscribers in the Cockatoo reading group, aged roughly 8 to 12.