Solve your own mystery: The Transylvanian Express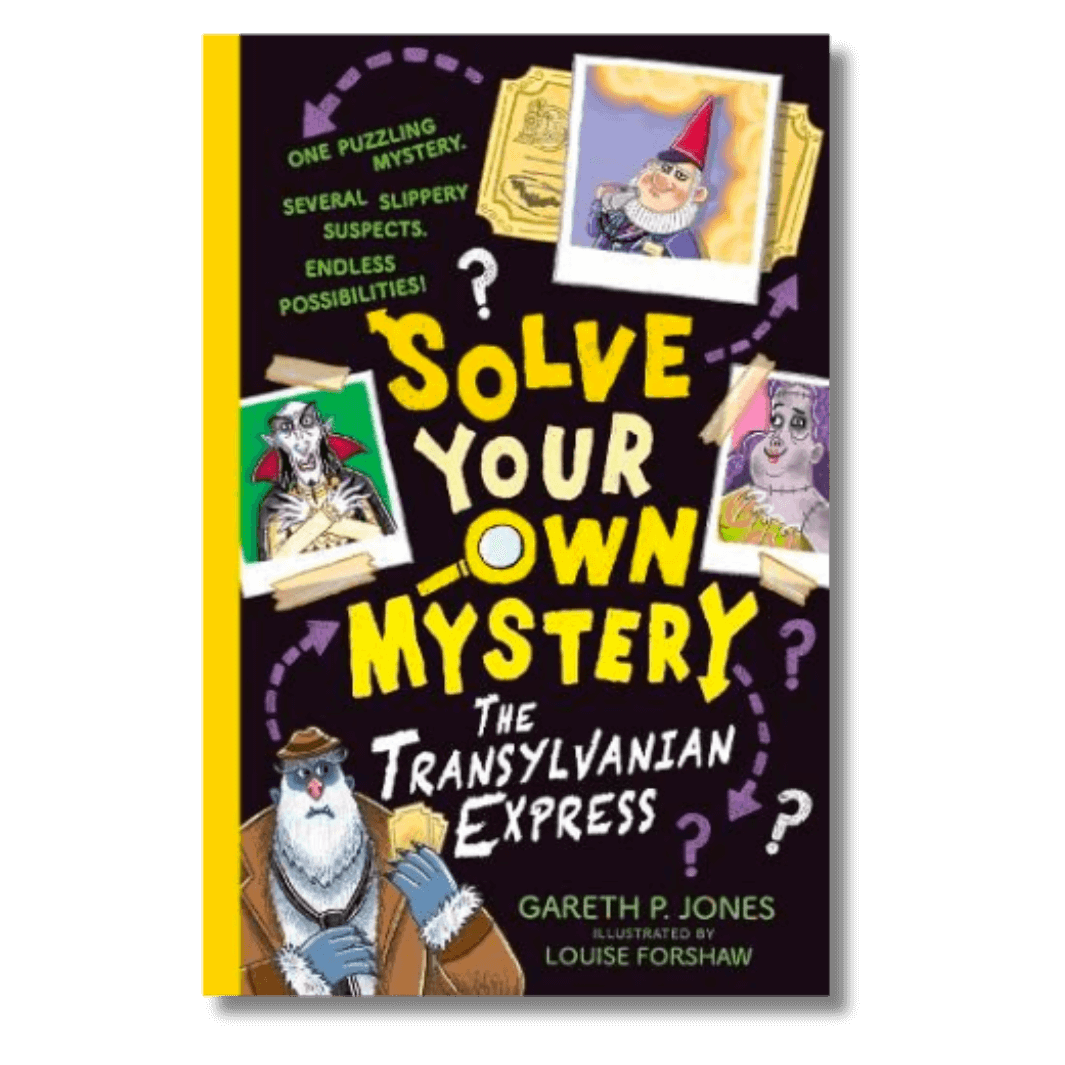 Solve your own mystery: The Transylvanian Express
Gareth P. Jones (author), Louise Forshaw (illustrator)
UK shipping from £2.99 (Free on bookshop orders over £25)
An interactive detective story for readers aged 5+
One puzzling mystery. Several slippery suspects. Endless possibilities!
"

This interactive mystery adventure is perfect for budding detectives and anyone who loves a puzzle to solve. It's also ideal for reluctant and newly independent readers. What better way to spark their imaginations and get the creative juices flowing?

"



Welcome to Haventry, a town where the ordinary and extraordinary collide! With ghosts, werewolves and zombies living side by side, trouble is always brewing. And when a fiendish crime is committed, YOU are the detective in charge of the case.

All aboard the Transylvanian Express! YOU and your yeti boss Klaus are headed to Castle Ursprung, home of the infamous vampire Count Fledermaus. But before you get there, you have a mystery to solve: Night Mayor Franklefink has vanished from the train.

Someone onboard must have played a role in his disappearance but who has the strongest motive? Could it be Franklefink's archnemesis Bramwell Stoker? Or is Sandra Rigmarole, elf District Governor and colleague of the Night Mayor, a more likely suspect? Or perhaps Franklefink's monster wife has suddenly turned against him? YOU decide!

With hundreds of paths to choose from and no dead ends, you'll solve the mystery every time!


Gareth P. Jones is the author of many books for children, including the NINJA MEERKATS, PET DEFENDERS and DRAGON DETECTIVE series, and THE CONSIDINE CURSE, for which he won the Blue Peter Book of the Year 2012. He lives in south London with his family.

Number of pages: 224
Reading age guide: 5 to 8 years
Publication date: 12th October 2023
Publisher: Little Tiger
ISBN: 9781788954495
Format: Paperback
We dispatch orders Monday - Friday.
Standard UK Royal Mail delivery £2.99 (free on bookshop orders over £25)
UK Express delivery also available from £5.50
International shipping available to select destinations (calculated at checkout according to weight)
We don't include any paperwork in our parcels so you can send our book gifts directly to the recipient with confidence.

We'll happily add a handwritten note to your order. Simply leave your message in the box on the cart page.

You may also like to consider adding gift wrapping or a greetings card from our gifts collection.